At this very moment, I am wrapping up a family Labor day gathering.
The details have caused some folks to give me a few curious looks when I shared with them what I would be doing today.
The family party is at my ex-wife's in-laws.
Karen and I divorced in 1995 after 13 years and 3 kids.
It was those three kids that kept us in a relationship.
A different relationship than husband and wife to be sure.
And each of us have remarried and are very much in love with our new spouses.
But we decided to maintain a civil relationship as parents.
I admit we've had our battles over the past 15 years, but we work thru them eventually.
And we have been thru a lot with weddings, college graduations, and now grandkids.
Maybe it helps that we live in separate cities, about an hour apart. Far enough apart to prevent the causal bumping into one another, but close enough to make contact when needed.
One of the reasons Karen and her husband Steve invited my wife Kathy and I over was the gathering of all of our kids and their spouses.
We've had a few in the past several months including holidays and a couple weddings but those were filled with the busy-ness of those events and today is a much more relaxed gathering without any extra agendas.
The relationship dynamics between former spouses can be tricky, and I am blessed to have a wife Kathy who is also a believer in creating new relationships out of broken ones when it is appropriate as I am also friends with her ex-husband and his family.
One of the keys to this is how you end the relationship and with some tips, here's a story from AOM:
Dim & Dash: Breaking Up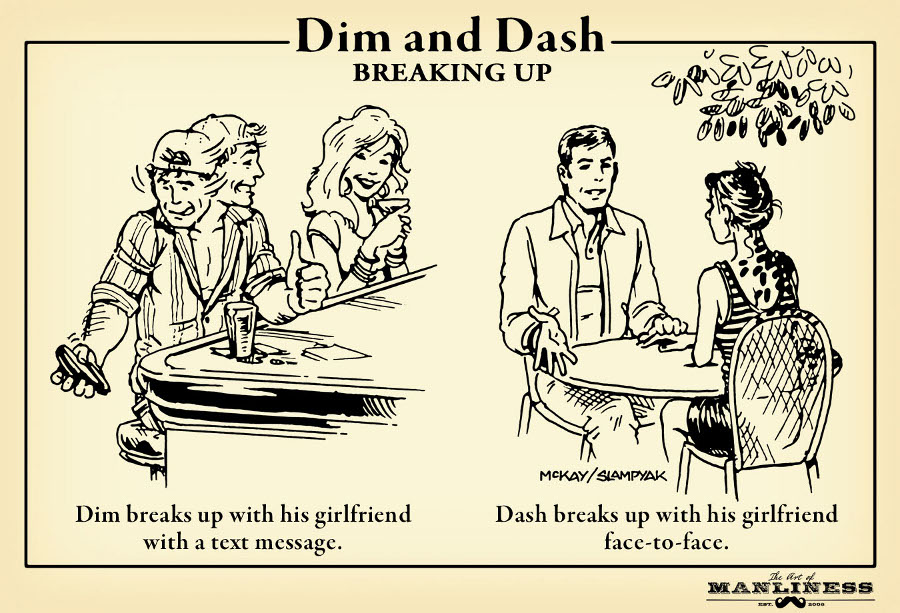 When you were a kid, did you ever read the comic "Goofus and Gallant" in Highlights Magazine? Goofus and Gallant were two boys with very different attitudes and temperaments. The comic would show how each boy would respond in the same situation–Goofus always did the wrong thing, while Gallant always did the right thing. What would those boys be like as grown men? We've decided to imagine in a new twice-monthly comic series called "Dim and Dash." Drawn by Ted Slampyak, the comic will be a fun way to present quick reminders on the right way for a man to act. Hope you enjoy!