My wife Kathy and I attend "Saturday Church". It's not a cute name for not attending, like "Bedside Baptist", but a real, regular, alive church service that our church has along with 2 services on Sunday morning and a Monday evening service.
Saturday Church begins at 5pm and is a more contemporary music style than the other times and we like that.
We also like the theme of our church that is often talked about in the sermons,
equipping people to make a Christ-life difference in the world.
You can ask me why I am a Christian and I'll tell you my story if you wish. And I know that it is never too late for anyone, as my Dad 11 years ago while lying on his death bed prayed with me & his grandchildren for his salvation, wrapping up a discussion that he and I first had 16 years earlier.
This post however is not about being a Christian. A lot of people call themselves Christians but you would never know that by their actions. This post is about making a Difference and it comes from the Art of Manliness Blog:
Posted: 30 Jul 2009 11:03 PM PDT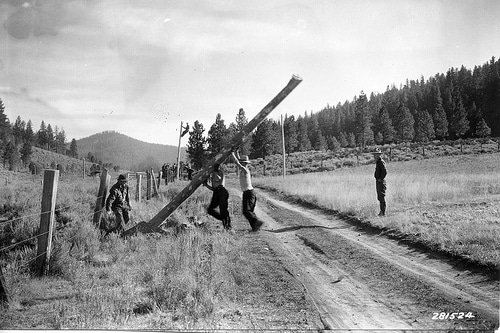 Civilian Conservation Corps, Oregon
A man walking on the beach saw a child reaching down to pick up small objects and then throwing them into the ocean. He called out "Good morning! May I ask what it is that you are doing?" The child looked up and replied "Throwing starfish into the ocean."

"I must ask, then, why are you throwing starfish into the ocean?" To this, the child replied, "The sun is up and the tide is going out. If I don't throw them in, they'll die."

Upon hearing this, the man commented, "But do you not realize that there are thousands of starfish? You can't possibly make a difference!"

At this, the child bent down, picked up a starfish, and threw it into the ocean. As it met the water, he said, "It made a difference for that one."

Adapted – Loren Eiseley "The Star Thrower"
This article is intended to inspire; because it can seem that the efforts of one are insignificant, that a single man's actions will not be noticed. But nothing could be further from the truth. Inspired individuals can and do make a difference.
Declaring War on Extreme Poverty – Nuru.com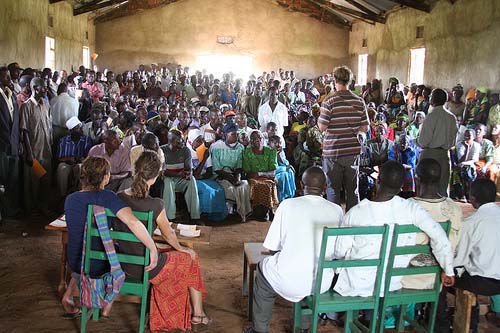 NURU Training in Kenya - modern farming techniques, water sanitation training, and sustainability are the topics being covered.
I use the term "war" because that is how Jake Harriman has approached his mission of eliminating extreme poverty. A Naval Academy graduate, Jake served as a Special Operations Platoon Commander with 1st Marines and deployed with BLT 3/1 during the initial thrust up from Kuwait to Baghdad. It was in Iraq that he came into contact with people whose economic situation was so desperate that they were being forced into the unthinkable life and death decision of fighting US forces or having their families murdered. After these events he sought to make a difference, to find a way to help his fellow human beings caught in the cycle of extreme poverty.
Leaving the military, Jake pursued his masters at Stanford where he conducted independent research on what worked and what didn't for non-profits operating in impoverished regions, specifically Africa. Taking what he learned, he founded Nuru International with the goal of helping communities pull themselves out of the clutches of extreme poverty through a sustainable business model that included education and micro loans for better crop inputs. Creating a lean strike force which he would lead, the initial Nuru team was to be the test subject to see if the idea was scalable. Nuru's first team into Africa included water & sanitation specialist Nicole Scott, marketing specialist Douglas Scott, and health care expert Janine Dzuba. Harnessing their individual strengths along with a grassroots support base, Jake sought to lay the foundation for a concerted and sustained effort to eradicate extreme poverty in Kuria, Kenya.
What has Nuru International accomplished in less than a year? With their modest resources, Jake and his team helped 450 farmers learn modern farming techniques, worked with them to acquire 70 tons of fertilizer, and planted over 7 tons of quality seed. As of April 2009, this has translated into an increased crop yield of over 400% which will enable the farmer to not only feed their families but pay back their loans in addition to having resources left over to repeat the process next year. They also taught thousands proper sanitation techniques (boiling water before use, washing with soap properly, using mosquito nets, etc), spearheaded the building of collecting rain water from roofs, and organized the digging of 4 wells to decrease the need of women to walk miles to fetch water from streams.
NURU Crop Results - The farmer on the left did not participate while the farmer on the right did and experienced a 400% crop yield increase.
This picture, take in July of 2009, shows clearly the difference Nuru made for farmers who took advantage of their training and loans. These two fields were within a stone's throw of each other – the field on the right yielded more corn in one season than this farmer had seen in the previous five years combined.
Nuru International has permanently improving the lives of 5000 people by providing them the tools to pull themselves out of extreme poverty. And the amazing thing is their model is both sustainable and transferable; already there are plans to expand the program once the proper resources are available. To learn more visit Nuru's website where you can see their videos summarizing recent accomplishments and become a fan of their Facebook Page where they just posted their latest pictures from Kenya.
Using Your Unique Skill Set – The First Response Team of America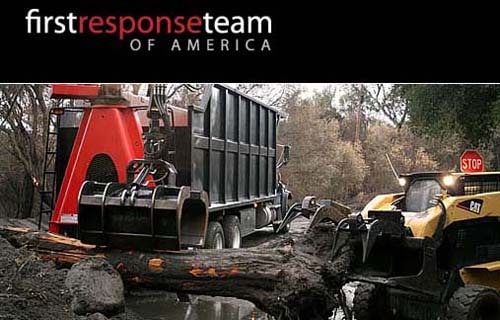 Tad Agoglia and The First Response Team at work clearing debris after a natural disaster strikes a small town.
Growing up in West Texas I remember seeing firsthand how destructive nature could be; in 1987, the town of Saragosa was wiped off the map when a monster tornado ripped through the town. The floods in Iowa last year again highlight to me just how powerful the forces of nature can be. Nothing can be done to avoid a natural disaster – but what can we do to help immediately after the event, in the first few critical days when people need help the most? What can one person do in that critical time period?
Tad Agoglia asked himself that question; a successful small businessman, he owned two specially designed trucks outfitted with debris clearing claw cranes capable of lifting cars. As a contractor he watched government agencies sometimes take weeks to get recovery operations going. Seeing this, Tad felt that America deserved a better type of response to these disasters.
In May 2007, Greensburg, Kansas was destroyed by a tornado. Tad immediately loaded up his equipment and small team of men and drove to the disaster offering his services – free of charge. His team cleared roads for emergency vehicles, opened the fire department and hospitals, recovered valuable equipment and documents covered by debris, and provided power with their industrial strength generators. His work allowed emergency personnel to do their jobs, helping heroes be heroes. Since Greensburg, Tad and his team have responded to over 20 disasters across the United States. Again, all free of charge. I can only imagine what this world would be like with more men like Tad.
To learn more about the First Response Team of America, visit their website and join their Facebook page.
What Can I do Right Now?
We all know that money is something non-profit organizations are always short on, so all I'll say is make sure your contribution counts. I prefer small, local, and religious organizations that use a volunteer force vs. a well paid staff. These organizations usually do a better job of stretching every dollar, and only a tiny bit if any goes to payroll. Although 8 years old, this article highlights the strengths of my favorite large charity, the Salvation Army.
No money? Time and skills are a great substitute for monetary contributions. Can you create a blog for the local Boys Club and spend the day snapping pictures to upload so that others can become aware of the organization's plight? What about volunteering at a local school to help the children who need extra instruction and encouragement with their basic math and reading skills? Even something as simple as taking a few minutes to properly social bookmark your favorite non-profit can help bring in scores of traffic it wouldn't have otherwise received. All of us have something to give.
I would like us to use the comments section below to highlight other men & small organizations making a difference. I know I'll personally visit each link and if nothing else, social bookmark it or become a fan. A small "contribution," I know, but every little bit counts – sometimes a tiny contributions is the spark that leads to a much larger set of actions.
"Be the change you want to see in the world." Mahatma Gandhi