Here's some good tips and a link to even more tips to improve your blog:
Flog Your Blog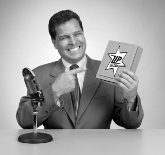 In a post at the Teasa's Tips blog, Yaro Starak outlines ten great ways to drive traffic at your new blog. These are only a few of his suggestions:
Write at least five major "pillar" articles. "A pillar article is a tutorial style article aimed to teach your audience something," says Starak. "Generally they are longer than 500 words and have lots of very practical tips or advice." So choose topics central to your blog's theme, then deliver solid information that will remain relevant and useful, even if someone reads it a year from now.
Publish one new blog post per day. These don't need to be as in-depth as your pillar articles—in fact, they can be brief, newsy items. The point is to tell visitors they can expect something new if they return tomorrow. "This causes them to bookmark your site or subscribe to your blog feed," he says.
Encourage comments at the blog. Readers are more likely to take your thoughts seriously—and to engage—if they see that others take the time to respond. Starak recommends prompting discussion by posing a question in your post, and responding to comments so the conversation maintains momentum.
The Po!nt: Says Starak, "Finding readers is all about testing to see what works best for you and your audience and I have no doubt if you put your mind to it you will find a balance that works for you."
Source: Teasa's Tips. Click here for the full post.